Explore Cerritos in a Honda from Buena Park Honda

Roam from Your Cerritos Home for the Honda You've Been Dreaming Of
A noteworthy hub all its own, Cerritos sits amidst the heart of Los Angeles and Orange County. From environmental efforts to entertainment-based experiences, this city is one worth admiring, regardless of your roots. That's why we, the team at Buena Park Honda - located just minutes from Cerritos city limits - have a soft spot for the city of Cerritos.
Once known as "Dairy Valley" due to its many local dairy farms, Cerritos has since taken on a personality all its own. Places like the Cerritos Towne Center and the Los Cerritos Center serve as a conflux for residents, with popular shopping spots and eateries to be found. Heritage Park, potentially the city's greatest namesake, features outdoor sports facilities, a community center and plenty of room to roam.
All of the opportunities for activity in Cerritos mean nothing without people to participate. From the bustling parks to the Cerritos Center for the Performing Arts, the culture is the people. And as a frequenter of Cerritos, if you want to be a part of the scene, you're going to need a reliable car.
Distance from Cerritos: 4.5 Miles
Time from Cerritos: 12 Minutes
Directions from Cerritos to our Honda Dealership
Start out heading east on South Street in Cerritos.
Continue straight as South Street turns into Orangethorpe Avenue.
In about 2.5 miles, turn left onto Western Avenue.
Continue for three quarters of a mile on Western Avenue.
Just after the bridge over the freeway, make a right into Auto Center Drive.
Buena Park Honda will be on your right in about a quarter mile, after the freeway entrance.
A Honda Can Get You There in Cerritos
Whatever your Cerritos lifestyle may entail, Honda's diverse line up is eager to provide. Families who frequent William F Elliot Elementary School for carpools and more will find solace in a Honda Odyssey, a modern and convenient take on the quintessential minivan. The Honda Civic is ideal for individualists ready for adventure, whether it be to the Cerritos Skate Park on Bloomfield Ave or toward one of SoCal's many other prime destinations.
People who work hard to parallel the environmental efforts that Cerritos makes every day through its reward program and building initiatives will find cars like the Honda Accord Hybrid sedan or the compact Clarity to be a perfect match. And thanks to its concise subcompact stature and wise engineering, the Honda Fit is ideal for urbanites hoping to tackle tight parking without sacrificing convenience and modernity on the interior.
Hours
Monday

9 AM - 8 PM

Tuesday

9 AM - 8 PM

Wednesday

9 AM - 8 PM

Thursday

9 AM - 8 PM

Friday

9 AM - 8 PM

Saturday

9 AM - 8 PM

Sunday

10 AM - 7 PM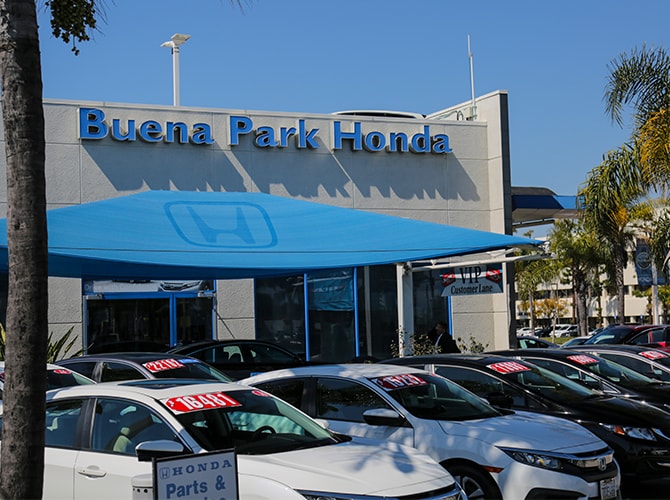 Finding the Honda for Your SoCal Lifestyle
However you fill your days in Cerritos, a Honda car, truck, or SUV is sure to prove reliable, convenient, and modern - enhancing your daily life in ways you won't ever want to revert from. All you have to do is make a Honda all your own; that's where Buena Park Honda, located along Beach Boulevard, comes in.
Our dealership proudly maintains an encompassing inventory of new Honda models, so whatever your goals on the Cerritos roads may be, there's a solution waiting for you just minutes from home. From hybrids and subcompacts to crossovers and pickup trucks, our new Honda lineup has something for every Cerritos driver.
For those on a budget or who are eyeing a particular model year, we also have a wide selection of used and certified pre-owned cars, all of which have been inspected for excellence from aesthetic to mechanical quality. However it is you choose to buy, our team is here to help.
Automotive Benefits Just Beyond the Cerritos Perimeter
Whether you live near 195th Street, Rose Street, or one of Cerritos' other neighborhoods or thoroughfares, it won't take you long to get to Buena Park Honda. Once you're here, your shopping experience will be full of plenty of benefits - ones that will make your route to a new Honda that much more enjoyable.
As a member of the Sonic Automotive Group, Buena Park Honda offers Sonic Price for every one of our vehicles. This is based on the selling price of similar vehicles in the SoCal community, from Cerritos to LA and beyond. Since Sonic Price comes from in-depth market research, it will be in line with what you've researched on your own. Sonic Price is both an effective method in providing our customers with a solid deal, without the hassle of negotiation.
As you make your way through the buying process, you'll note that quality customer service is paramount at Buena Park Honda. Our team of associates can speak many different languages, an expression of the welcoming environment we strive to provide every day. All you have to do is reach out by phone or make the quick trip from your Cerritos home for a visit.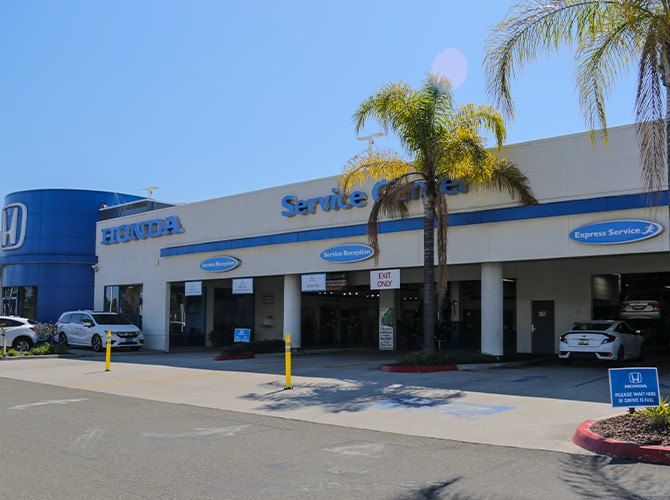 We're Here to Help You Enhance Your Cerritos Lifestyle
The films at Harkins Theatres and the French Dipped sandwich at Philippe The Original aren't going to wait; visit us for a test drive of your favorite Honda vehicle and we'll help you get back on the Cerritos streets in no time.